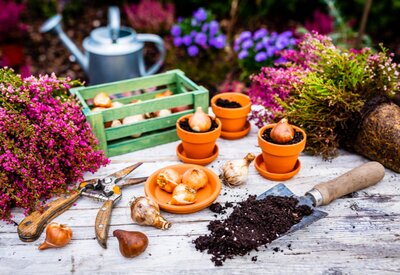 The fact that summer is over doesn't have to be bad news. There are many things you can do in the garden in the coldest of months - and before you know it, Spring will be here again! In Spring, people are fully enjoying their blooming garden with the most beautiful tulips, ornamental Alliums and crocuses to the fullest again. Would you also like a gorgeous spring garden that many people envy? Then you should get started with Spring bulbs right now! The bulbs of bloomers such as the Muscari and the daffodil can be planted into a border or a couple of lovely pots. Visit our plant centre or pick out your favourite bulbs online. You'll be one of the first to select the most beautiful Spring-flowering bulbs.


When do you plant spring bulbs?
As we already mentioned, the bulbs of beautiful tulips, daffodils, hyacinths, crocuses and other flowers should be planted in Fall. Why? Spring bulbs need a cold period to flower fully in March or April. So do not wait too long! It is essential not to place flower bulbs in the ground during a very wet period or frost. Then there is a risk of freezing or rotting. Therefore, plant them as soon as possible after your purchase.
How deep do you plant the spring bulbs?
Always check the size of the bulb beforehand, but - to reassure you - almost nothing can go wrong. After all, bulbs will, in most cases, still manage to find their way out of the soil and grow toward the sun. They can, however, be given a helping hand, so you don't have to wait unnecessarily long to enjoy their beauty. We are happy to provide some tips about the depth of the spring bulbs:
Large bulbs, 5 cm and larger are often planted 15 cm deep;
Smaller bulbs, usually about 2.5 cm, can be planted 7 to 10 cm deep;
Place large bulbs about 7 to 20 cm apart and small bulbs 3 to 7 cm.
How to plant flower bulbs?
We are also happy to give you some tips for planting Spring-flowering bulbs. You can always visit our nursery and plant centre to ask a staff member for advice. They are also happy to help you create the most beautiful scent and colour combinations.
✓ Find a nice spot in the garden, like planters on your balcony, pots, a border or an empty spot in the lawn;
✓ Always read the planting instructions on our bulb packaging carefully because some flower bulbs like to be in full or partial sun;
✓ Choose whether you would like to plant the bulbs on an individual spot or in groups;
✓ Always place the flower bulbs gently in the ground and do this with the pointy side up;
✓ Open the soil slightly and always remove weeds first. Remove any small stones;
✓ Always cover your flower bulbs with soil and water if the soil is not yet wet enough.
What garden tools do I use?
To make it as easy as possible for yourself, you can use all kinds of garden tools when planting flower bulbs. A shovel is always handy to have at home, but there are also plenty of garden tools specially made for planting the bulbs. Just think of a bulb planter. You can easily make a hole in the ground with this, but you can also read exactly how deep you place the bulb. The special handle ensures that the soil is easily released afterwards.
Order your bulbs from Ahern Nurseries & Plant Centre
With several flower bulbs, you are assured of a cheerful spring. Order your favourite bulbs online or visit our plant centre. Our garden experts welcome you with open arms and are happy to answer all your bulb related questions.