BULBS
Who doesn't love the dainty flowers that pop their little heads over the ground in Spring? Through frost and freezing temperatures, our bulbs battle their way through the soil to reward you with bright splashes of colour. Even on the darkest days, they announce their arrival and thus begins another year in the garden. We have a huge range of bulbs, and the list gets bigger every year. Usually, we stock the Spring bulbs from September to January. The summer flowering bulbs, like Lillies and Dahlias, arrive in February. Keep your eyes peeled because they sell out quickly! Order your favourite bulbs online or visit our plant centre. Our garden experts welcome you with open arms and are happy to answer all your bulb related questions.
What you can expect from us
| | | |
| --- | --- | --- |
| ✓ We deliver nationwide | ✓ Delivered to your doorstep for only €6.50 | ✓ Family-owned business |
Get those hands dirty
Are you crazy about all those beautiful flowers that pop up in your border or containers in Spring? If you want to enjoy a colourful spectacle, you'll have to get those hands dirty in Autumn and Winter. In our online shop, you can find all kinds of bulbs. Select your favourite colour or flower, and mix and match them to get that colourful sensation that all your neighbours will be jealous of next Spring.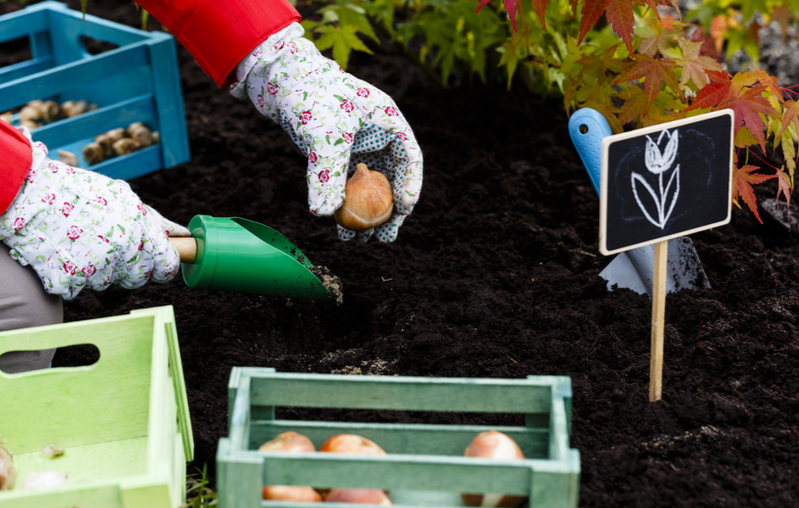 How to plant your bulbs
The proper preparation
Decide where you want to plant each (group of) bulb(s). Then remove weeds from your border and compost it before you plant your bulbs.
Plant in groups
Less isn't more! Flower bulbs make even more of an impact when planted in large groups. Try the 'lasagna technique': plant early and late blooming bulbs in layers on top of each other to have your garden blooming for a long time.
Not too deep
Make sure you plant your bulbs three to four times as deep as the bulb itself. Put the nose of the bulb up.
Mark their location
Place sticks in the places where you have already planted flower bulbs so as not to dig the same hole at a later stage.
Use fallen leaves
Leaves that have fallen off by the wind can be used as a 'blanket' to cover up the spot where the flower bulbs are planted. This creates extra heat and protection, so your bulbs grow faster and stronger.
Bulbs and their flowering period
We have made a list of flower bulbs that you can plant from September until the first frost kicks in. Always read the description on the specific product before planting your bulbs.
Muscari
Plant the bulbs with a 5cm distance between them, at a depth of 3cm.
Flowering period: March, April, May

Hyacinth
The common hyacinth is planted at a 15cm distance from other bulbs, at 15cm deep. The other varieties can be planted with 4cm and 6cm between them. The depth varies between 5cm and 10cm.
Flowering period: March, April, spur to May.
Iris
The irises are planted 10cm apart from each other, at a depth of 6cm.
Flowering period: May, June

Tulips
Tulip bulbs are planted at a depth of 15cm. Put a space of 10cm between the bulbs.
Flowering period: April, May, June