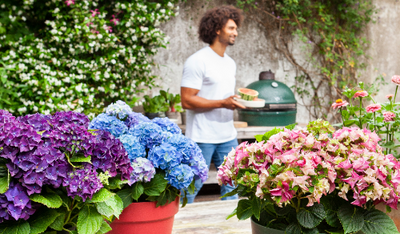 The sun is out, and temperatures are rising; woohoo, summer has arrived! That means it's time to ensure your garden is ready for summer. With the following tips & tricks, you will enjoy your outdoor paradise to the fullest in the coming months.
Keeping your lawn healthy and in-shape
Now that the sun is shining like never before, it's time to give your green lawn some love. Mowing, sowing and fertilising are essential if you want the grass to remain greener than it's on the other side.
In June, you can mow your grass without the risk of night frost. Give your lawn a fresh haircut and ensure the leaves are about 3.5 to 4.5 centimetres tall.
After mowing, it will become clear where your lawn has some bare spots from winter. Sow these places with grass seeds.
Fertilise your lawn in May and June to give it a quick boost for summer.


Remove weeds
A job that not every gardener is fond of is removing weeds! Weeds use a lot of water, space and nutrients from the soil intended for your plants and flowers. So it's time to remove these uninvited guests thoroughly. Now is a good time because the warmer it gets, the faster weeds grow. Use good garden tools such as a hoe to get this job done quickly and safely.
Summer pruning
Many people associate pruning with autumn and winter, but you can also prune certain plants before or in the summer. Then you no longer have to do this job in the winter! This has the advantage that the plant enters the winter less vulnerable. Just don't prune plants that are already in bloom. Plants you can prune in the spring are: Lavender, the butterfly bush, Hibiscus, the Climbing rose, Dwarf rose, Standard rose, Catkins Willow and Clematis.


Bye-bye algae
We love a green garden, but there is one exception: algae! Remove unwanted green from tiles on the terrace and paths in the garden. Fill a bucket with hot water and green soap. Leave it for half an hour so the soap can mix well with the water. Then throw it on your tiles and scrub off the green deposits and moss with a stiff broom. Rinse well with water.
Add some plants
Time for the fun part: brighten up your garden with new plants! Treat yourself and your garden to summer bloomers and other plants in colourful pots. Whether you're refilling your borders, planting perennials or annuals, be sure to water new plants regularly. These don't have long roots yet and need extra attention to get them through the hot days. Pay a visit to Ahern Nurseries & Plant Centre in Kilmallock, Limerick.