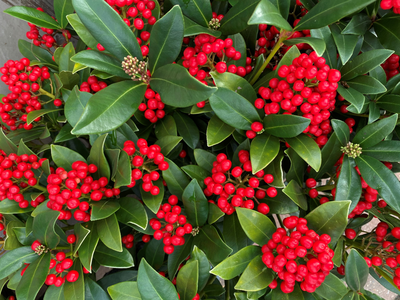 Yeah, we're back! We are very excited to have you visit Ahern Nurseries & Plant Centre again because there's a lot of beauty to discover… It might come as a surprise, but there are many fascinating plants for the winter garden. In the darkest and coldest months, many shrubs, trees and other plants show colourful foliage and flowers. Stop by our plant centre to see all our stunning greenery for yourself! We welcome you with open arms and love to tell you all about our favourite plants. Here, we would love to give you a little sneak peek of what we have to offer at the moment.
1. The Leucothoe with its rich foliage
This beautiful leaf shrub will stand out in any garden. It has many great varieties, making it hard to have just one favourite. Take, for example, the Leucothoe axillaris' Curly Red'. It's a small evergreen plant with curly, glossy leaves that will turn into a deep reddish-purple in autumn. Its sister, the Leucothoe axillaris' Curly Gold', has striking bright yellow and orange foliage. It can be planted singly or in groups for contrast. Why not mix and match the two? Provide the Leucothoe with a well-drained, moisture-retaining, humus-rich soil. These Leucothoes will eventually reach a height of about 40 centimetres and prefer a spot in the sun or partial shade.


2. The ornamental Skimmia with flowers or berries
Skimmia is an evergreen ornamental shrub that's pretty easy to maintain, making the Skimmia very popular. Do you want a Skimmia with red or white berries, or do you prefer one with fragrant flowers present from autumn until the end of winter? There is plenty of choice in our garden centre. Skimmias prefer a bit of shade and humus-rich and well-drained soil. The compact shrub does not like wet feet, so keep that in mind when putting the plant in a container.
3. The blooming Camellia
Brighten up your garden with the evergreen Camellia! It blooms from the end of January with large white, pink or red flowers. Take, for instance, Camellia japonica Dr. King. This is a medium-sized evergreen shrub with a beautiful red flower with a yellow heart. The flowers of this Camellia are very similar to the well-known roses, but the difference is that these flowers are slightly larger and will bloom early in the spring. The Camellia japonica 'Mary Williams' has these eyecatching pink flowers. You can already see all the buds waiting to pop in our plant centre. Camellia is an ideal asset to any garden, as long as it is placed in (partial) shade. Keep them away from morning sun so that the buds won't get sunburned. Ericaceous compost will make them flourish like never before.
Visit Ahern Nurseries & Plant Centre in Limerick
Come and visit us in Limerick, and get informed and inspired. Please ask the staff in our garden centre for more information and advice about our range of winter garden plants. We'd love to help you create a stunning colourful garden, terrace, balcony or patio. We hope to see you soon!