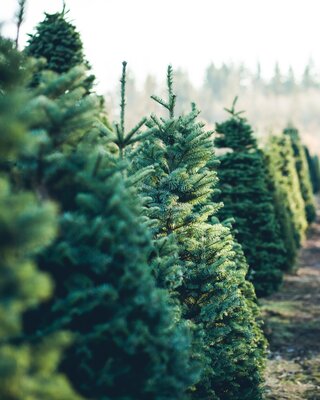 Do you love the holiday season, but are you fed up with the yearly stress that comes with shopping for the best decoration, the most beautiful tree and the most personal gifts? Ahern Nurseries & Plant Centre gives you the motivation you need to make Christmas shopping fun again. How? For example, by not waiting too long before filling up that shopping cart! Here we give you a few reasons why you should transform your home & garden into a winter wonderland as soon as possible - of course with a bit of help from your friends at Ahern!
1. No stress
The Christmas season is a special time of enjoyment, bringing up memories and looking forward, spent with family and friends. The excellent food, the lovely presents and the perfectly decorated house are all things we look forward to every year. Ah, that magical feeling that comes with Santa's arrival... However, it's easy to get caught up in the to-do list that goes into making that magic happen. Decorating! Baking! Shopping! Help! To not get too stressed this holiday season, it's essential to start making a Christmas plan early so you can focus on the things that matter. Why wait till the last moment to set up your Christmas tree? At Ahern Nurseries & Plant Centre, we just unloaded the first batch of Christmas trees. ???? Give us a buzz on 086 1002187 to order.
4ft - 5ft €40
5ft - 7ft €50
Limited 7ft - 12ft available
2. Treat yourself
To some people, it seems that Christmas starts earlier every year. But why would that be a negative thing? Multiple studies have shown that people who start decorating the house and garden early are happier than people who deprive themselves of the twinkly lights and glittery accessories. After all, Christmas decoration equals cheerfulness and light in a difficult time. We thought 2020 was the worst, but it turned out 2021 wasn't as normal as we had hoped. It has been a tough year, and therefore you deserve to treat yourself with the Christmas decoration that makes you happy.
Visit our Christmas shopping event


3. Real trendsetter
If you start decorating your home and garden now, you'll have the very first choice when picking out a tree, the lights and decorations. Prevent your neighbour from showing off that gorgeous Christmas lighting before you even thought about decorating. We're sure you'd rather not see the word 'sold out' anywhere, so it's good to buy everything your heart desires on time. If you do your shopping early, you can determine the trends all by yourself. Your visitors will look at your winter wonderland jealously but will also get inspired. Our favourite Christmas trends of this year?
✓ Silver is making a comeback! Combine it with light blue and sage green for a trendy look.
✓ We have earned a little love, so hearts, soft materials and pink tones make us very happy.
✓ Make it a cool Christmas by choosing robust materials, for example, in combination with petrol blue and beastly fun prints.
✓ Green, red and white never go out of style. This trend is timeless yet hip when combined with a chic shimmer. Get that golden luxury feeling going!
Come and visit Ahern Nurseries & Plant Centre to get into the Christmas spirit
You have enough motivation now, right? So visit our sparkling plant centre quickly. Our employees do everything they can to assist you in your search for the perfect Christmas decorations, tree and gifts. If you have any questions, you can always contact us. Ho ho hope to see you soon!