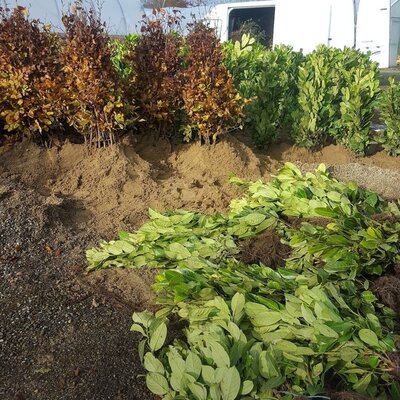 Is your garden in need of a make-over? Why not plant a hedge? Hedges form an attractive natural fence, provide shelter from winds and other elements, and create a sense of privacy and security. They give your garden a green facelift while also having some functional advantages. You can, for example, hide unattractive features while adding year-round colour to your garden. What's not to like? These days, there is plenty of choice from different types and sizes of hedge plants. Here we would like to shine a spotlight on our bare-root hedge plants simply because NOW is the time to buy and plant them.
Bare-root season has begun
It's been a late start this year, but bare-root season has finally begun! At Ahern Nurseries & Plant Centre, you can find all kinds of bare-root hedge plants, like Beech, Laurel, Privet and Whitethorn. Hedging is in quite high demand already this season, so our advice would be to plant early - preferably this side of Christmas to be guaranteed supply. As always, we will offer you the best advice and know-how needed to buy….

✅ … the right type of hedge for your soil;
✅ … the quantity required for your planting area;
✅ at the best price possible!
Bare-root hedging is going out the door already, so get measured up and give us a shout for quantities and prices. We are open 9.30 am to 6 pm from Monday to Saturday.

Visit us!

What are bare-root plants?
We welcome you with open arms in our plant centre, but it might be helpful to learn a bit more about the advantages of planting bare-root plants before stopping by. First things first: what exactly are bare-root hedge plants? In short, they are plants without soil around the roots. They have been grown in the open field and have a 'bare root' visible when lifted from the ground. They are only available during their natural dormant season, which runs from November to April.
A relatively cheap hedge
Growing a bare-root hedge plant this way is less labour-intensive than growing a hedge plant with a root ball or in a container. This makes the bare-root hedge plant relatively cheap. The plants do not have to be re-potted every year, and therefore fewer fertilisers are needed. In addition, transporting these plants is cheaper than transporting plants that have soil around their roots. This is because transport costs usually depend on weight.


Bare-root hedging: evergreen or deciduous?
Bare-root plants are usually deciduous, so they may look a bit bare at first. Yet, that will change rather quickly once planted. After a few years, bare-root hedge plants will form a beautiful hedge. Evergreen hedge plants, such as Yew, Boxwood and Laurel, retain most of their leaves, even if you receive them as bare-root plants. They often look beautiful right from the start.
How do I plant bare-root hedge plants?
We recommend planting bare-root plants in a zigzag pattern. Plant the hedge plants staggered next to each other to give you a dense hedge faster. Make sure that the hole is large enough and mix the soil with new potting soil and compost to create a healthy basis. After planting, the work is not done yet. The plant has to get used to its new environment and develop its roots. It helps to prune immediately after planting. This, of course, sounds very strange, but pruning allows the plant to focus more on its roots and root development. It also has the advantage that the hedge plant will create new branches after pruning. This reduces the long shoots and creates new branches, giving the hedge a fuller appearance.
Tip! Keep in mind a failure rate of about 10%. Yet, you can significantly reduce the failure rate if you use a root growth product that allows the roots to absorb nutrients from the soil more efficiently. Nevertheless, it is wise to order 10% extra plants. Plant them in a different part of your garden so that you can easily replace the hedge plant that unfortunately didn't make it.
10 great shrubs and hedging plants

Buy bare-root plants at Ahern Nurseries & Plant Centre
Keep in mind; it is best to plant the hedge as early as possible in the season, before the end of December. This is because the ground is still relatively warm, and the roots of your new hedge can get used to your garden soil more easily. Water the plants well until you put them in their final place. If you need any more advice, you know where to go. We are here to help out! Visit Ahern Nurseries & Plant Centre soon to find the hedge plants of your dreams…