Ornamental grass
There are many grass species with great ornamental value. Evergreen, vibrant and easy to maintain, ornamental grasses turn every garden into something special. Due to their different heights and waving stems, ornamental grasses are perfect for creating depth and dynamics in the garden. Call us on 086 1002187 for help & advice on what to plant or order your favourite grasses online.
What you can expect from us
| | | |
| --- | --- | --- |
| ✓ We deliver nationwide | ✓ Delivered to your doorstep for only €6.50 | ✓ Family-owned business |
Ornamental grasses: easy to maintain
Add some year-round textural interest to your garden with several ornamental grasses. You can elevate any outdoor space to a more vibrant level with these beauties. The ornamental grasses give the garden a particularly dynamic effect when the wind blows through them. In addition, ornamental grasses are fairly easy to maintain. They have a quite large root ball, which ensures that they can withstand a somewhat drier period. After planting, however, it is good to water them regularly for a nice kick-start. Fertilising and annual pruning also do most ornamental grasses well. However, check the supplied information about the plant in question. Many varieties are evergreen; others have a beautiful brownish winter colour or die back to flourish again in spring. Stop by our plant centre in Kilmallock, Limerick, to find the right ornamental grass for your garden project or order online. We deliver nationwide.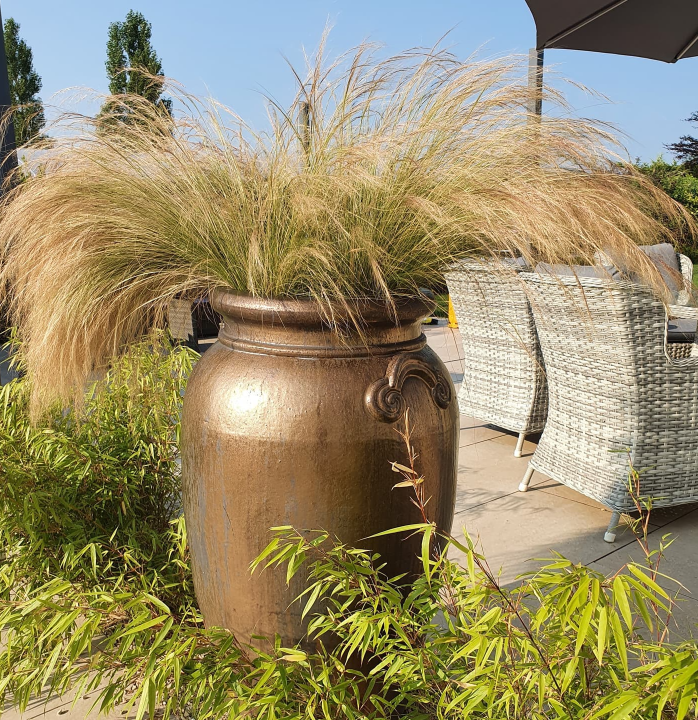 Evergreen ornamental grasses
By combining different plants, you can create a garden that has interest every day of the year. Evergreen ornamental grasses are the perfect addition to your garden layout if you want your outdoor space to flourish year-round. Plant them in the border as a background for perennials, or let the grasses shine solitarily in a few beautiful pots. Make sure the plant has enough space for its roots to grow when you plant them in a container. The nice thing about ornamental grasses is that they look great in any garden: from a minimalist balcony to a zen garden with a pond. Some examples of evergreen ornamental grasses are:
✓ Luzula
✓ Helictotrichron
✓ Festuca
✓ Carex
Don't hesitate to order your favourite plants online or stop by our nursery soon. We are open 9.30 am to 6 pm from Monday to Saturday.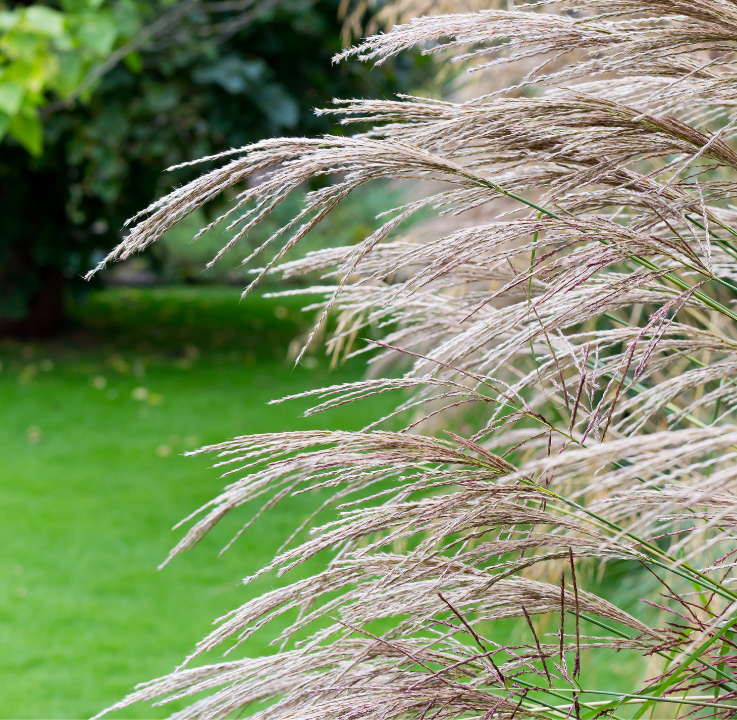 How to plant your ornamental grasses?
Have you already decided on which ornamental grass you want to add to your garden? You can plant the grasses all year round, but It is important to avoid periods of frost. Because the root ball of the ornamental grasses is quite large, it is important that it is given sufficient space to establish itself and grow. Not only in containers, as mentioned before, but also in the ground. Always make sure the plant hole is at least twice as large as the root ball. Don't forget to repot ornamental grasses in containers to a larger pot after a significant growth spurt. Non-evergreen ornamental grasses that die back in the winter months should be cut about 20 centimetres above the ground in spring to flourish again a few months later. Give them plenty of fertiliser in spring.
Ground-covering ornamental grasses
Ornamental grasses come in all shapes and sizes. Some grasses stand out above all other plants, and there are ground cover varieties. Ground covers are very attractive and prevent weeds from growing. One example of ornamental grass that covers the ground is the Acorus ogon. This variety likes to be planted in full sun or partial shade and moist, soggy to wet soil. The plant is fairly hardy, attracts butterflies and bees and is disease resistant. Order this beauty online!
Buy ornamental grasses online at Ahern Nurseries & Plant Centre
Do you have a Japanese garden, a romantic balcony, a modern roof terrace or a classic patio? You can turn your outdoor space into something special with some grasses in the border or in pots. If you need any more advice, you know where to go! We are here to help out. Visit Ahern Nurseries & Plant Centre soon for our top-of-the-line ornamental grasses.