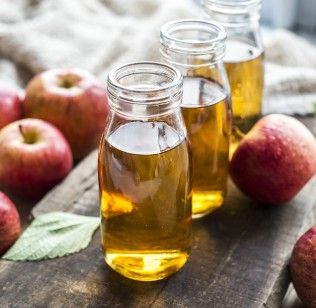 It's Apple Season
There are so many ways to enjoy apples from simply eating them straight off the tree like I did as a child or baking them into tarts & pies, or my personal favourite...yummy apple crumble!! Now my new favourite thing to do is make my own delicious homemade apple juice. It is a refreshing and nutritious drink which is easy and satisfying to make. Make one glass of apple juice in ten minutes.
What do you need to make a delicious homemade apple juice
4 homegrown apples
Half a lemon
Water
A small handful of mint leaves
There are many ways to make apple juice, with different herbs, sugar, honey and many other ingredients so you could even make up your own recipe with all of the flavours and ingredients that you enjoy the most. I like to add a little fresh ginger to my juice just for a little extra kick...sometimes I need it!!
How to make your delicious homemade apple juice
Slice the apples and slowly simmer them in some water in a saucepan over medium heat. Use just enough water to cover the apples and allow them to break down to a soft mush. I add my ginger at this stage too, I slice about a 1 inch piece but it is quite strong so you could easily start with less.
Strain the liquid into another bowl and continue to strain it until you reach a fairly clear liquid. Then you can add flavours to it by squeezing in some fresh lemon juice or mint leaves from your herb garden. You could even spice it up with some cinnamon!
Enjoy your delicious homemade apple juice in the garden
Once you've made your apple juice, let it cool, grab a cushion and take it outside to enjoy the splendour of the September garden. Now sit back and relax!!
We grow lots of different apple varieties here on the nursery and can offer you plenty of advice on varieties best suited to your needs. So if you don't have apples in your garden...it's time to plant one!!